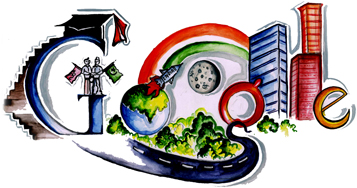 14 year old Akshay Raj is the 2010 Doodle 4 Google India competition winner. The IX grade student from St. Aloysius High School, Mangalore made " 'Technically and Naturally Growing India' concept under googles 'My Dream for India' theme.
Doodle 4 Google, is a competition where Google invites K-12 students to work their artistic will upon Google's homepage logo. As per Google, the competition received more than 1 lakh entries over a period of 90 days.
Google will reward Akshay Raj with a Technology Starter Package and his school will gain a technology grant of Rs. 2 lakhs.
The competition was based on creativity, expression and artistic factors. Contestants were from 1st to 10th std.
The doodle has gone live in Google India front page for Children's day celebrated for the remembrance of Pt Nehru.